PROMOTEUSgifts.com | Wholesale of promotional items
Production, direct import to distributors and advertising agencies.
SILICONE WRISTBANDS
Silicone wristbands have been a very popular advertising gift to hand out in recent years. An ideal and cheap method of advertising at festivals, concerts, parties, camps, sporting and other public events. A unique souvenir for fans and for children, suitable as a free gift to go with magazines etc. People simply like to wear them :-)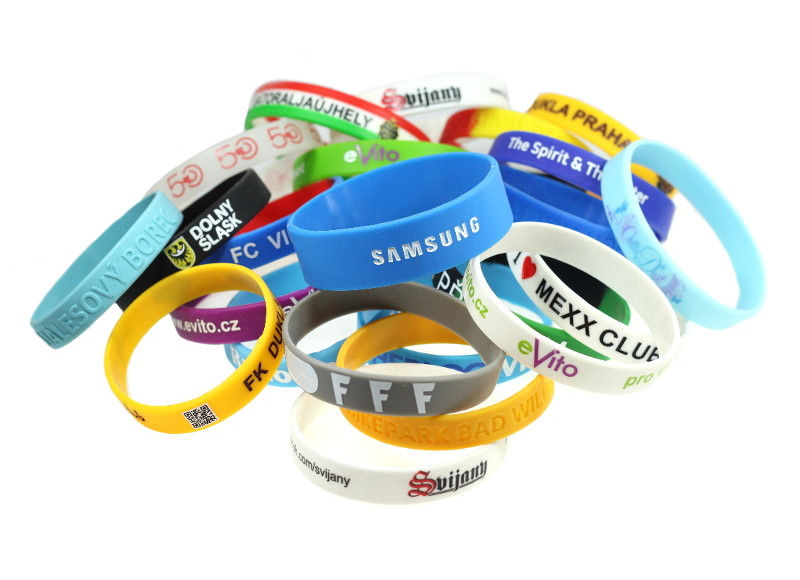 Our silicone wristbands are made of 100% silicone, not harmful to human skin.
We manufacture silicone wristbands in various sizes and colours according to your specifications from the pantone colour palette.
We apply logos or texts to wristbands using various methods according to customer requirements.
Minimum order: 100 wristbands
Delivery date: 2-4 weeks (according to number of wristbands)
You can choose the size of the wristband from the standard sizes given below, or we can manufacture it in a custom size.
Basic types of silicone wristbands:
Standard wristband: single colour wristband in colours from the PANTONE colour palette with your logo
Segmented silicone wristband (combined, highlights): a mixture of two or more colours according to your specifications

Luminous (phosphorescent) silicone wristband: glows in the dark (best suited for concerts and parties)

Custom shape: originally shaped wristband

Key ring: key ring from a silicone wristband

Wristband branding:
PRINTING - printing with 1 or more colours according to your specifications.

DEBOSS – debossing into the silicone wristband.

EMBOSS – embossing a raised pattern on the silicone wristband.

COLOUR EMBOSS/DEBOSS - embossing or debossing can be coloured according to your requirements. Great durability, great result. The most popular method of printing.

QR CODE - A QR code can be placed on the wristband. Thanks to the QR code, your wristband will carry important information such as an e-mail address, telephone number or link to a website or Facebook etc.

Individual processes can be combined in one wristband.


Silicone wristband sizes:
XXL
Men's
Women's
Children's
Mini
25 mm
printing even of more complicated logos
210x25x2 mm
202x25x2 mm
190x25x2 mm
180x25x2 mm
160x25x2 mm
12 mm
most common size
210x12x2 mm
202x12x2 mm
190x12x2 mm
180x12x2 mm
160x12x2 mm
6 mm
slim wristbands
210x6x2 mm
202x6x2 mm
190x6x2 mm
180x6x2 mm
160x6x2 mm
We need the maximum amount of information from you in order to be able to send you the best possible offer. This in particular concerns:
number of wristbands
type and size of wristbands
branding - type, complexity and size of branding (or attach the required logo)
wristband colours
Please do not hesitate to contact us. We will be happy to create a graphic design and pricing calculation for you for the required quantity free of charge.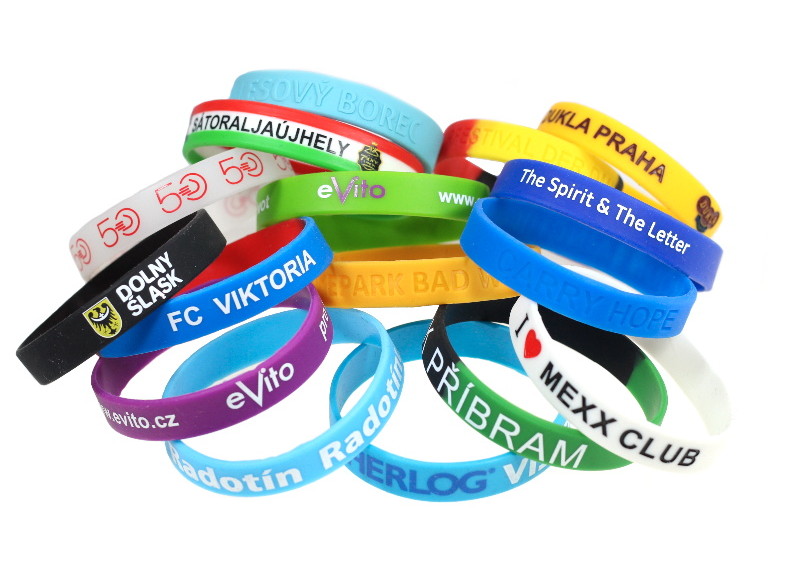 Please log in to view content.
Top topics
View a selection of the most interesting current topics, news and innovations from the world of IT & electronics. Here you can find, for example, customer solution options, ECO products that support sustainability and recyclable materials hot news and many other topics that you can not miss.
Why Promoteus
Custom-made
Starting from 50 pcs
In your colours and style
We will prepare 3D designs for you
ECO product range
Recycled materials
Natural materials and packaging
Sustainable energy sources
We control the quality
Multiple tests for every order
2-year warranty (standard)
We understand technology
We are the manufacturers
We manufacture without a middleman
Certified products
You get exactly what you order
Innovation
We have ideas
We create trends
Art design studio
Business assistance
Quick offers, previews
Cooperation on projects
Technical support
Samples
All samples available
Products for loan
Fast delivery
Support for your team
Printed / online catalogues
Showroom presentations
Sales rep training