PROMOTEUSgifts.com | Wholesale of promotional items
Production, direct import to distributors and advertising agencies.
Promoteus guide
REGISTRATION:
You can register HERE
After you complete the registration form and the data is verified, you will be informed by e-mail of your account activation.
B2B partner zone– registered

customers get access to our B2B partner zone

Marketing support – information about new products, training materials, product and thematic presentations, professional support when dealing with your clients
Catalogues – All year catalogue and season catalogues with carefully selected and functional IT & electronic products and accessories
Samples – you can borrow, buy or Exchange samples kits for points earned through the bonus programme
Bonus programme – collecting points for every order you make, you can simply exchange your points for gifts, samples etc.
CATALOGUES:
Catalogue 2023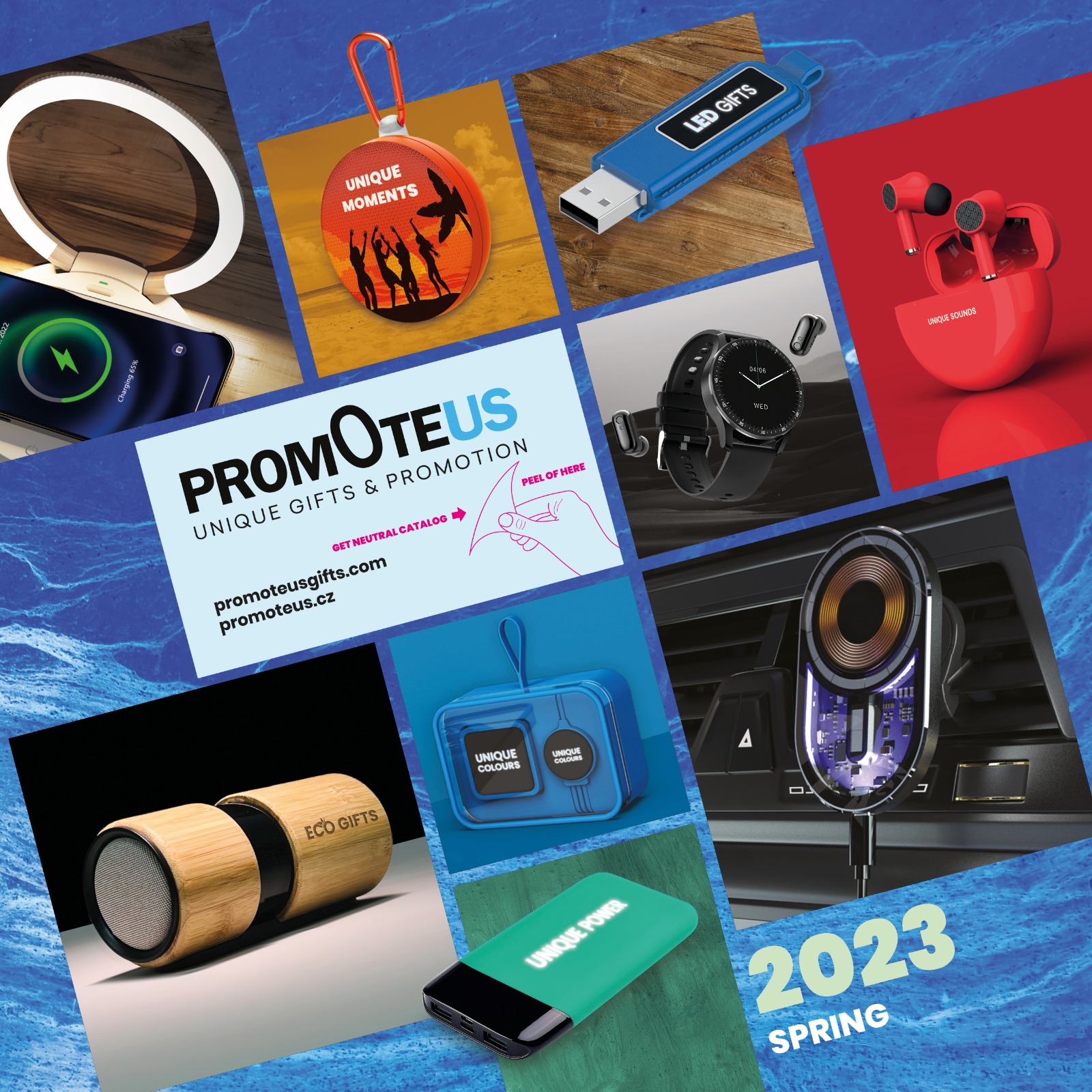 Current catalogues you can find HERE
ABOUT PROMOTEUS:
We are the largest specialized B2B supplier of IT & electronics promotional items in the Czech market and a major exporter to EU countries.
We co-create trends and provide the newest technologies. We specialize in the manufacture of products in fully customised designs. We offer the maximum degree of individualization even in small series, whether this means colours, unique branding methods, shapes, materials, or packaging.
WHY PROMOTEUS:
Custom-made
Starting from 50pcs
In custom colours and style
ECO product range
Natural and recycled materials
Sustainable energy sources
We control the quality
Multiple tests for every order
2-year warranty (standard)
We are the manufacturers
Certified products
We manufacture without a middleman
Innovation
Art design studio
We create new ideas and trends
Business assistance
Technical support
Quick offers, previews, cooperation
Samples
All samples available
Fast delivery
Support for your team
Sales rep training
Showroom presentation and marketing support

OUR VALUES:
Professionalism. We are professionals with many years of experience on the market. We want to be an indispensable teammate for our partners that makes full use of its employees' knowledge and experience. We are proactive and offer our ideas and expertise. We keep our promises and will never stick our heads in the sand to avoid problems. We always look for practical and often original solutions.

Seriousness. We enter into all our internal and external relationships as a reliable, trustworthy and loyal partner.

Certainty. We create positive awareness of the company through our responsible behaviour towards both employees and clients.

Simplicity. Time is everything to us. We employ all available technologies to save as much of it as possible for everyone.

Education. We continually improve our and our partners' professional knowledge and capabilities.

Innovation. We never satisfy ourselves with stereotypes. We introduce the latest trends into our sector.

Quality. Only a satisfied customer comes back.

Uniqueness. Everyone is unique. Why settle for corporate gifts without your own identity?