PROMOTEUSgifts.com | Wholesale of promotional items
Production, direct import to distributors and advertising agencies.
Data upload and USB flash drive duplication
USB flash drives with your data - the most effective presentation available today!

Loading data onto USB flash drives is the simplest and most effective way to present your company to the customer.
Take advantage of this offer for loading data in a volume of up to 500 MB (0,5 GB) FREE OF CHARGE!!!
(Only applies to data loaded onto flash drives purchased from our company).
USB flash drives pre-loaded during manufacturing are also exempt from the obligation to pay copyright fees!
We offer the following methods of loading data:
Standard loading of data onto a USB flash drive
Your customer can use data loaded in this manner however they want, whether they want to copy it or delete it.

Loading data with protection against deletion
Data loaded in this manner cannot be deleted from the USB flash drive.
(only available for USB flash drives loaded during manufacturing).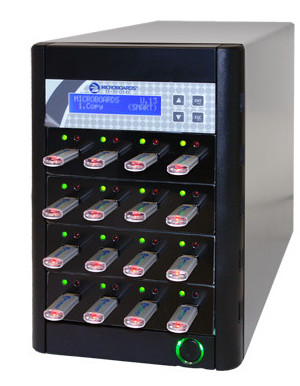 We offer duplication (loading, copying, reproduction) of data in CZ, even subject to express deadlines within 24 hours!
USB flash drives from our range
USB flash drives provided by you

We work on professional high speed duplicators, thanks to which we are able to prepare orders in record-breaking times!
We do not use other subcontractors for loading data. We work exclusively on our own equipment so our services are very fast and flexible. Your data is also always safe and cannot find its way into unauthorised hands. Quality control of loaded data is of course performed, so your customer cannot be exposed to the risk of an unpleasant surprise when they find out that although there is some data on the USB flash drive, it is partially or even fully non-functional.
Do not hesitate to contact us to ask for a pricing calculation!
Please log in to view content.
Top topics
View a selection of the most interesting current topics, news and innovations from the world of IT & electronics. Here you can find, for example, customer solution options, ECO products that support sustainability and recyclable materials hot news and many other topics that you can not miss.
Why Promoteus
Custom-made
Starting from 50 pcs
In your colours and style
We will prepare 3D designs for you
ECO product range
Recycled materials
Natural materials and packaging
Sustainable energy sources
We control the quality
Multiple tests for every order
2-year warranty (standard)
We understand technology
We are the manufacturers
We manufacture without a middleman
Certified products
You get exactly what you order
Innovation
We have ideas
We create trends
Art design studio
Business assistance
Quick offers, previews
Cooperation on projects
Technical support
Samples
All samples available
Products for loan
Fast delivery
Support for your team
Printed / online catalogues
Showroom presentations
Sales rep training